SpiceJet to launch Amritsar-Dubai flight from 15 Nov 2015
Amritsar, 14 November 2015:– The airline SpiceJet is set to launch its Amritsar-Dubai flight from tomorrow while Scoot Airline, a no-frills unit of Singapore Airlines,  is expected to start operation of its Singapore-Amritsar-Singapore flight and Turkish Airline is also looking for starting a direct Instanbul-Amritsar-Instanbul flight by next year. After the exit of various airlines linking Amritsar with international destinations, Amritsar international Airport is once again looking for more international connectivity because many national and international airlines are evaluating options to open new circuits from here.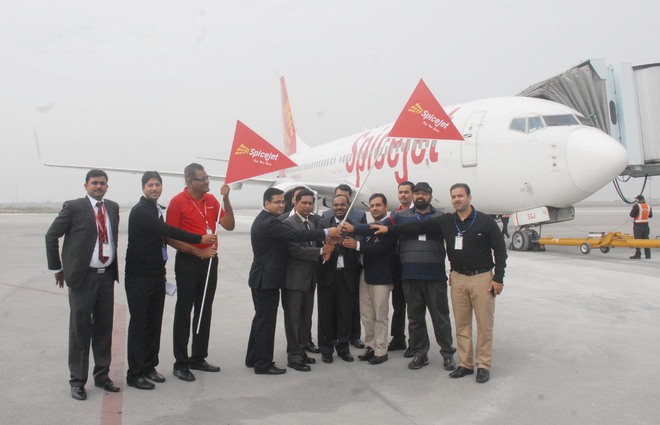 The maiden Dubai-Amritsar flight of SpiceJet landed at Sri Guru Ramdas Jee International Airport with 174 passengers onboard on 15th Nov 2015. The budget airline has launched its six-day week direct flight between Dubai-Amritsar-Dubai. The long-standing of demand of passengers of NRI origin for direct air connectivity to the Middle East has been met. Already, Air India Express is operating an Amritsar-Delhi-Dubai flight. The flight takes about six to eight hours to complete the journey as the passengers need to wait at the Delhi airport for the connecting flight. GP Gupta, chief administrative officer, SpiceJet, said the new flight took less than three hours to reach the destination. He said precious time and money of passengers was saved.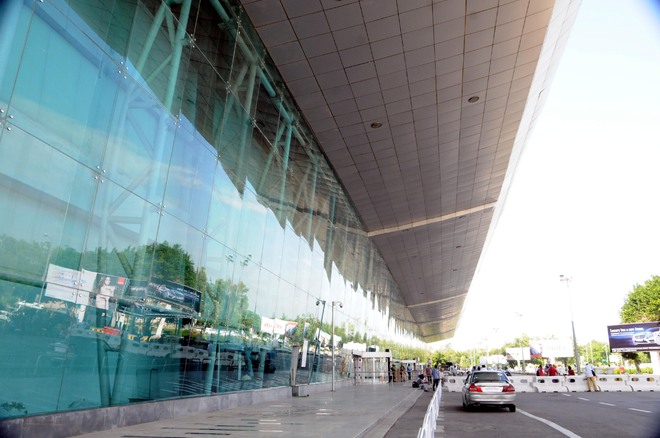 Sri Guru Ramdas Jee International Airport Advisory Committee member Gunbir Singh said Singapore- based Scoot Airline and Turkish Airline were planning to start operations from the Amritsar airport. He added that the Amritsar airport was on the agenda of these airlines and a final decision was yet to be taken. "It is indeed heartening that the holy city is yet again on the radar of international airlines for direct connectivity with important destinations," he said. 
He said he had recently met CEO, Scoot Airline, and came to know that it is also considering flying between Amritsar-Singapore with a plane from its young fleet. This will enable students and visitors to travel to and from Australia, South-east Asia, China, Hong Kong as well as West coast of America and Canada.
This flight could consolidate connectivity to East Asia as Malindo Air had launched Kualalumpur-Amritsar flight on October 25.  Earlier, Singapore Airlines had launched thrice a week Amritsar-Singapore flight on October 1, 2004. The service ran well for around five years before it was discontinued in early 2009. The prospect of Turkish Airline is most interesting as with it a huge network through Istanbul would open up possibilities to the West and Middle East. 
The Punjabi diaspora of Indian origin settled in the the UK, Canada and North America will be in an advantageous position with the opening of the Istanbul route because they could conveniently take connecting flights from there (Instanbul) to Toronto, Vancouver, London and other destinations in the USA. 
Air India had discontinued the Amritsar-Birmingham-Toronto flight, which used to witness over 90 per cent occupancy, on October 31, 2010. Since then, no flight has successfully replaced it.  Amritsar airport director Venkateshwar Rao said officials of Scoot Airline were expected to visit the airport next month. He added that various airlines were weighing options to launch their operations depending upon profitability. 
Sri Guru Ram Das Jee International Airport's connectivity is set to rise with the launch of a flight between Amritsar-Dubai by the budget airlines SpiceJet. He said its exact frequency and timing would be known once schedule arrived from airline's headquarters at Gurgaon.
SpiceJet will be the fifth airline to operate international flight from here. Currently, Qatar Airways, Uzbekistan Airways, Turkmenistan Airlines and the national carrier Air India are operating international flights from the Amritsar airport. Qatar Airways is operating a daily flight between Amritsar and Doha. Uzbekistan Airways is operating five days a week flight between Amritsar and Tashkent. Turkmenistan Airlines is operating a daily flight between Amritsar and Ashgabat. Air India launched its Amritsar-New Delhi-Birmingham flight on hub and spoke model from Amritsar Airport on August 1, 2013. Air India Express is already operating a daily Amritsar – Dubai flight.
SpiceJet is expected to launch its much awaited international flight after it procured new aircraft. The airline operates more than 210 daily flights to 42 destinations, including 34 Indian and eight international cities. SpiceJet is known as low cost airline as it offers low air fares. SpiceJet connects its network using next generation fleet of 19 Boeings (18 737-800 and 1 900ER) aircraft along with 15 Bombardier Q-400 aircraft. Bombardier fleet is more focused on Tier II and Tier III cities. It may be mentioned here that many international flights were withdrawn from the Amritsar airport over a period of time.
The Air India discontinued its Amritsar-Birmingham-Toronto flight, which was termed by many as the most successful flight in the annals of the national carrier's history. The flight, which used to witness over 90 per cent occupancy, was withdrawn on October 31, 2010. However, it was not the only flight that was discontinued from the Amritsar airport. The British Midland International (BMI) had pulled out its Amritsar-Almaty-London flight in October, 2012. Prior to it, the Air India had suspended its Amritsar-Toronto flight due to the strikes of pilots. The Singapore Airlines had launched thrice a week Amritsar-Singapore flight on October 1, 2004. The service ran well for around five years before being discontinued in early 2009. Later, Jet Airways launched its Amritsar-London flight only to withdraw it after sometim